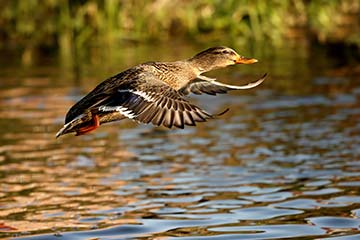 The early morning below freezing temperatures, the cold wind washing over the water, and the predawn alarm clock donít deter the real duck hunters from pursuing some good waterfowl. Elephant Butte and Caballo Lake have been prime locations for the last few years during duck hunting season due to the great habitat for waterfowl. Expert guide Frank Vilorio will take you on a satisfying guided duck hunt and teach you duck hunting tips youíll remember for a lifetime.
Frank Vilorio provides the best resources for the professional guided duck hunts in New Mexico.
He provides:
Duck Boat
Decoys
Ground Blinds
He will also call the ducks and teach you to do the same. Frank will clean the ducks as well.
Hunters need to bring along:
A Shotgun
Non-Toxic Steel Shot Shells
Camo Duck Hunting Apparel
Face Mask or Paint
Game bird hunters also have to bring:
General New Mexico Hunting License
Habitat Management Access Validation
Harvest Information Program (HIP)
Federal Duck Stamp Signed on the Front by the Hunter
Most common ducks at Elephant Butte:
Gadwalls
Wigeons
Mallards
Shovelers
Pintails
Canvas Backs
Teals
Redheads
Hunters can also refer to the New Mexico Game & Fish for more information on current duck hunting season regulations.
License Requirements
All hunters must possess a Game Hunting License or Game Hunting and Fishing License. All duck hunters 16 years or older must possess a federal Migratory Bird Hunting and Conservation Stamp, also known as a duck stamp.
Federal Regulations
Fishing and Hunting Guide Frank Vilorio follows all federal regulations concerning duck hunting.
It is illegal to shoot at any protected species from within a motor vehicle, power boat, sailboat or aircraft.
Migratory birds may be taken from a motor-driven boat (or other craft with attached motor) or sailboat. This is provided that the craft is resting at anchor, fastened within or alongside a fixed hunting blind or used solely as a means for retrieving killed birds.
No person shall hunt migratory birds:
From a sink box (a low floating device that has a depression giving the hunter concealment beneath the surface of the water).
From a car or other motor-driven vehicle or from or with the aid of any aircraft or drone.
By baiting with feed such as corn, wheat, salt, etc.
Hunters should be aware a baited area is considered to be baited for 10 days after the removal of the bait.
Importing Harvested Migratory Birds
During any one week beginning on Sunday, no person shall import more than:
25 doves and 10 pigeons from any foreign country.
10 ducks and 5 geese from any foreign country, except Canada and Mexico.
The Canadian and Mexican export limits for doves and waterfowl vary for different foreign provinces and states.
In addition, one fully feathered wing must remain attached to all harvested game birds being transported or shipped between a port of entry and oneís home or taxidermist. No person shall import anyone elseís harvested migratory game birds.
Duck Hunting Limits During Central Flyway Seasons
Ducks - 6 October 13 - January 17
Aggregated limits include no more that 5 mallards, only 2 may be female. Mexican-like ducks are considered part of the mallard bag limit. 3 scaup, 3 wood ducks, 2 redheads, 3 hooded, merganser, 1 pintail, 2 canvasback.
MRGV Dark Goose 2 per day / 2 per season December 23 - Jan 16
Canada and white-fronted Geese
Elephant Butte Lake Offers Great Terrain and Duck Hunting Weather Conditions
Guided duck hunting trips at Elephant Butte Lake in New Mexico have been very productive over the past couple of years during duck hunting season. The colder the weather gets up north, the more ducks fly south from Colorado to spend their winter here at the lake. Duck hunting season starts in October and runs through the end of January. The duck hunting weather conditions have been perfect at Elephant Butte Lake.
Expert Duck Hunting Guide at Elephant Butte
Frank Vilorioís first love is truly fishing the New Mexico waters. However, duck hunting at Elephant Butte comes in a close second. Frank grew up with Elephant Butte as his backyard and spend lots of time perfecting his craft of fishing. He was introduced to waterfowl hunting by his Dad, Frank Senior, in the late 60ís. His dad would take him out to Northern Mexico to hunt Snow Geese and Sandhill Cranes. They often visited Cuauhtemoc and Casas Grandes with Mennonites in the area. Frank actually learned a great deal of duck hunting tips and techniques from the Mennonites. He took what he learned and applied it to the duck hunting guides that he leads at Elephant Butte.
He has been officially guiding fishing and hunting tours for over 20 years and has become very familiar and knowledgeable with the terrain. Frank also employs concealment tactics with blinds that have proven successful. Not only that, Frank has a skill for using duck calls and placing decoys. He is known as New Mexicoís premier duck hunting guide and one of the best available on Elephant Butte Lake. He will teach you duck hunting tips that will last a lifetime. The notoriously low waters of Elephant Butte Lake have created an excellent habitat that attracts Mallards, Pintails, Gadwalls, Wigeons, Canvasbacks, Redheads, Ringnecks, Shovelers as well as Canadian Honkers and Sandhill Cranes.
Duck Hunting Tips
A lot of skill and technique goes into creating a good spread. We have a few proven duck hunting tips to push you in the right direction.
Camo Matters. Always use camouflage vegetation from around the same area. Stretch cord is great if you cover it with tumbleweeds for the Elephant Butte area. It makes to no sense to try and use cattails or bulrush that arenít growing in the area that you are hunting.
Placing the Blind. Most waterfowl hunters set up with the wind at their back and decoys right in front of them. However, this has its disadvantages. Ducks approaching this setup will be looking straight at the blind and will see movement right away. When shooting, after the first shot, the ducks flair downwind with speed. Follow up shots can be tough. Instead, position the blind at an angle.
Know the Wind. Your setup will depend on the wind direction. This might be difficult when only a light breeze is present. Talcum powder can help you determine the wind direction, even if the wind is sparse.
Wrap Your Gun. You may be completely blended into your terrain with a great duck hunting apparel, but your shotgun might be shining and reflecting the sunís rays. Shotgun camo wrap only runs around 30 dollars and can be a great investment.